nutrasal
Regular price
Sale price
$24.95
Unit price
per
Sale
Sold out
Liposomal B12 Concentrate is a complete Vitamin B Complex and includes Methyl Folate, Biotin and L-Carnitine. The Liposomal Delivery System with Bioperin (Black Pepper Extract) Increases Absorption and Bioavailability.
Advantages of Liposomal B Complex Spray:
A complete B complex w/ methyl folate, Biotin, L-Carnitine
Outstanding absorption and bioavailability
Supports heart health and circulation*
Supports the nervous system*
Supports a healthy metabolism*
Supports healthy natural energy and weight loss*

Maximum absorption with liposomes and bioperin*

LipoZome B is in convenient and totable two-ounce bottle that allows you take your B's on the go for full day energy support if needed. The liposomal spray can be used multiple times per day for consistent blood levels and sustainable all day energy support.

The B complex vitamins are essential to maintaining healthy cardiovascular, nervous, immune, musculoskelatal, and energy systems, among others.
Liposomal Delivery Significantly Increase Absorption and Bioavailability.
Nutrasal applies over 35 years of experience and advanced pharmaceutical grade phospholipid technologies to create exceptional Liposome Delivery Systems (LipoZome™) to apply to sublingual sprays, liquids, and topicals.

Our pharmaceutical grade phospholipids and proprietary liposomal process combine to significantly enhance the absorption of active ingredients when taken orally, or applied topically to the skin.


Our liposome encapsulated active ingredients are rapidly absorbed into the mucosal tissue of the mouth, and penetrate deep into the skin. The active ingredients are readily absorbed into the bloodstream and are able to circulate throughout the body in minutes.

 LipoZome technology can be used to convert conventional pills and tablets, into liquids, sublingual sprays, and topical applications, thereby enhancing Tmax and Cpmax and overall bioavailability. The result is enhanced therapeutic outcomes as compared to conventional dosage forms that travel through the digestive tract.

Liposomes have been known within the scientific community for decades as effective carriers of biologically active ingredients used to target specific sites of action.

Nutrasal's unique and versatile LipoZome Active Delivery Systems are a next generation liposome that can be used for a variety of applications in OTC drug products, cosmetic, personal care, and dietary supplements.
Share
View full details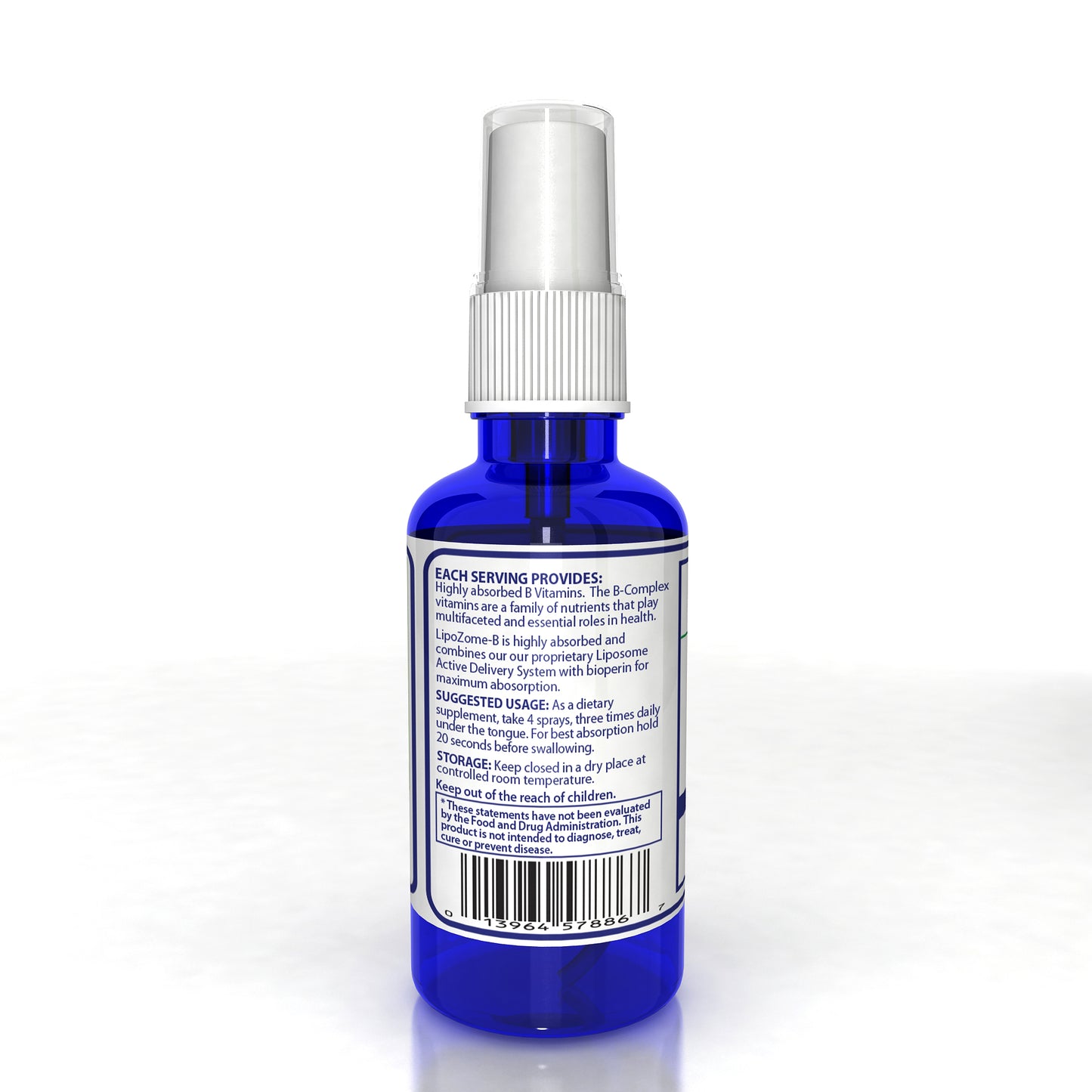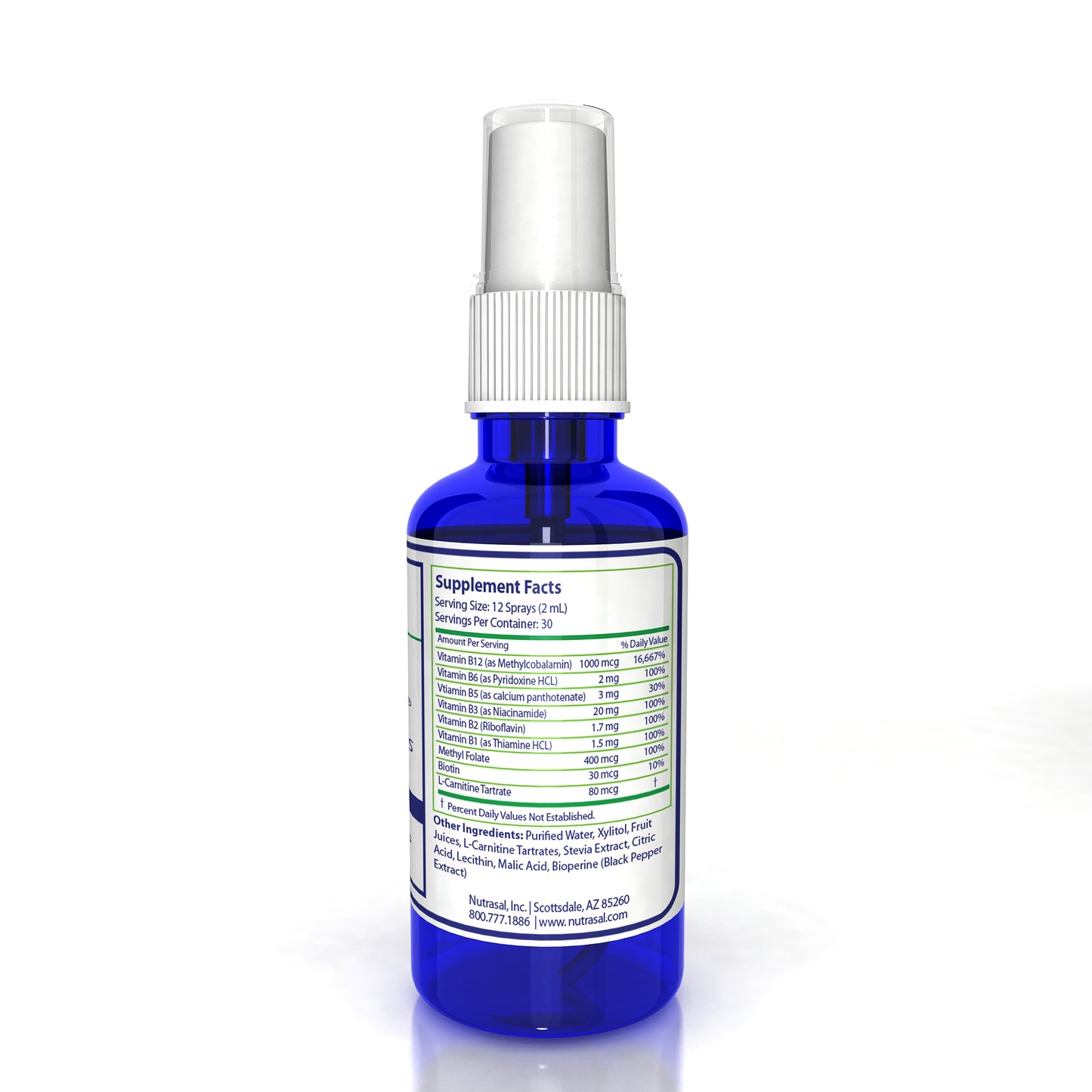 Absorbs and make a difference!
With spina bifida and no gall bladder, my body just wasn't absorbing vitamin B in pill form. The lipozome B Complex has made a big difference for me. I do not suffer the lack-of-B symptoms such as moodiness and blisters on my tongue when I am using your product.
Add a title to introduce your product's features
Highlights

A complete B complex w/ methyl folate, Biotin and L-Carnitine. A liposomal delivery systems signficantly increases absoption and bioavialability of B12, Folate, B6 and other essential B Vitamins.

Liposmal B Complex Supports:

- heart health and circulation

- nervous system

- healthy metabolism

- healthy natural energy

- healthy weight loss

- Among Others
Common Uses

The B Complex Vitamins May Help To:

- Support Healthy Cholesterol Levels

- Regulate Digestion

- Aid Weight Loss: Especially Vitamin B12

- Cell Repair and Regeneration

- Support a Health Pregnancy and Fetal Development

- Helps Relieve Premenstrual Syndrome

- Regulate Sleep Cycle

- Support Immune System

- Improve Nerve and Brain Function

- Manage and Illeviate Canker Soars and Mouth ulcers
Ingredients

1. Vitamin B1 - Thiamine

2. Vitamin B2 - Riboflavin

3. Vitamin B3 - Niacin

4. Vitamin B5 - Pantothenic Acid

5. Vitamin B6 - Pyridoxine

6. Vitamin B7 - Biotin

7. Vitamin B9 - as Methyl-Folate

8. Vitamin B12 – as Methyl-Cobalamin

9 L-Carnitine Tartrate

Other Ingredients: Puri‑ed Water, Xylitol, Fruit Juices, L-Carnitine Tartrates, Stevia Extract, Citric Acid, Lecithin, Malic Acid, Bioperine (Black Pepper Extract)
GMOs and Allergens

Nutrasal Products are GMO free and do not contain any wheat, gluten, dairy, corn, nuts, shellfish, soy protein, or other potentially allergy causing ingredients.

All components of our products are highly purified, 3rd party tested and are FDA "GRAS" status or generally recognized as safe.

Although we can not gurantee that one may have an allergic reaction to our product(s), our products have been analyzed and the potentially allergy responsive proteins are well below 0.5 ppm, which is the detection limit of
the ELISA method for the quantification of proteins. 
Residual proteins in Nutrasal Products are actually "not-detected".