nutrasal
Regular price
Sale price
$44.95
Unit price
per
Sale
Sold out
PPC VET is Our Liposomal PPC (Phosphatidylcholine) formulation just for Pets

Recommended by Veterinarian's for Liver Health and Aging Neurological Process
Liposome Delivery System

Easy Liquid Dose by Weight - 1000mg PPC/5ml tsp.
Tasty and Easy to Administer to Pets
Same Pharmaceutical Grade PPC as PhosChol
PPC has been studied by leading veterinary schools of medicine and is recommended in veterinary manuals and by leading veterinarians as the go to product/protocol for liver health support.

Overwhelming clinical data and over 70 years of use in Humans and Animals has demonstrated that PPC is safe and effective. Not only will your pet's liver benefit from PPC but you will supercharge the brain and every cell and organelle in their body.

Our PPC Vet Liquid Formulation is easy to administer. Simply pour the correct dose (by animal weight) onto a measuring spoon or teaspoon and add to food or administer directly. Your pet will have Zero issues with the flavor. If it's easier and you are comfortable eyeballing it...you can pour directly onto food once you know the approximate dose quantity. PPC is completely safe and if you happen to pour a little extra...no worries...it will help support the brain, liver, heart, mitochondria and every cell in your pet's body.


PPC VET uses the exact same pharmaceutical grade PPC found in our PhosChol "People" products. The liposome delivery system ensures maximum absorption and the best possible results.

There are 48,000mg of purified PPC per 8oz bottle which equates to 48 - 1000mg doses. Only the largest canines will be taking a full teaspoon dose or more. Most average sized pets will require much less meaning your 8oz bottle will provide well over 100 doses of Pure PPC.

The dosing chart found on the bottle (based on valid and published clinical study recommendations) makes dosing easy to figure out for any sized pet...from 5 lbs. to 150+ Lbs.
 PhosChol is the #1 Healthcare Professional Brand of Pharmaceutical Grade PPC




Since 1982, PhosChol has been leading professional brand of pharmaceutical grade PPC (polyenyl-phosphatidylcholine). In fact, over 200 million doses have been administered by doctors in the United States alone. PhosChol is the Gold Standard; A 100 Percent Purified Active Ingredient that delivers the highest concentrated source of 1,2 DLPC, a very special molecule responsible for PhosChol's superior efficacy and results.


Life happens on the membrane and purified PPC (PhosChol) provides the building blocks essential to cellular membrane, repair, regeneration and function.
Like bricks of a wall, cellular membranes act as barriers to protect each cell and organelle in the human body, maintaining cellular structure, function and co-operation.
 Membranes are an essential building block for life as cells, tissues, organs and ultimately an organism cannot be formed without them. Without PC and cellular membranes, life as we know it would not be possible.
 Phosphatidylcholine clearly plays a vital role in human life.Its role is even more important when unhealthy lifestyle choices are made.Excess consumption of processed carbohydrates, sugar and HFCS, alcohol, and drugs, among others, can lead to membrane damage. When cell membranes become rigid and damaged, function decreases, and health and well-being is replaced by disease. When membrane damages are present, PC is in high demand to help form, proliferate, restore and regenerate cell membranes and to enhance membrane-dependent metabolism.

With all of the products available to you and/or your patients, why consider PhosChol?

The answer is simple:
PhosChol's unique mode of action and proven results
Over 35 years of use in the United States
Trusted by doctors - Over 100 million doses administered by doctors in the U.S. alone
Broad and deep clinical documentation
Gold Standard - 100% purified and pharmaceutical grade polyenylphosphatidylcholine (PPC)
The highest concentrated source of the cell membrane superstar - 1,2 Dilinoleoylphosphatidylcholine

 

(DLPC - Up To 52%)
Unsurpassed safety record
100 percent satisfaction guarantee
Share
View full details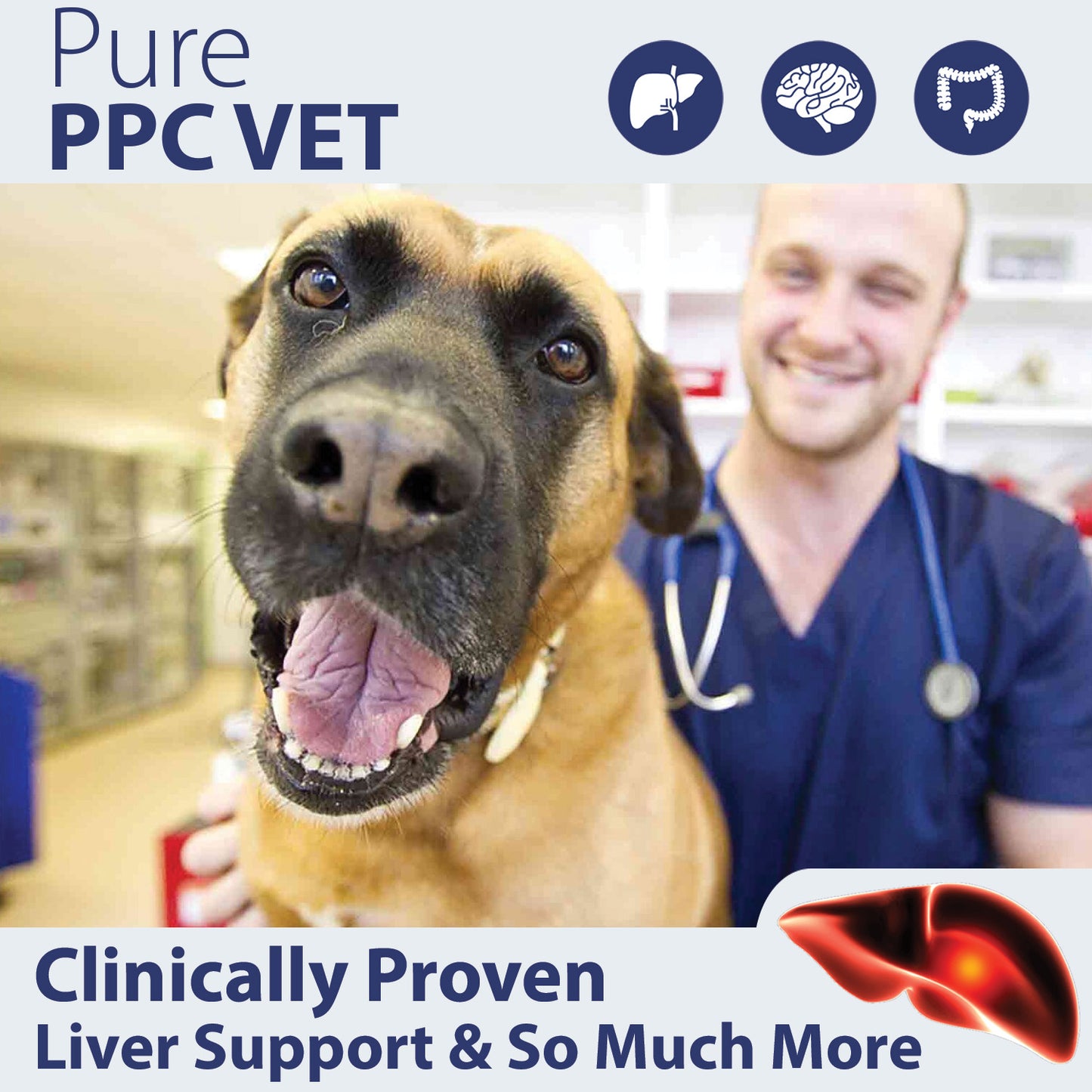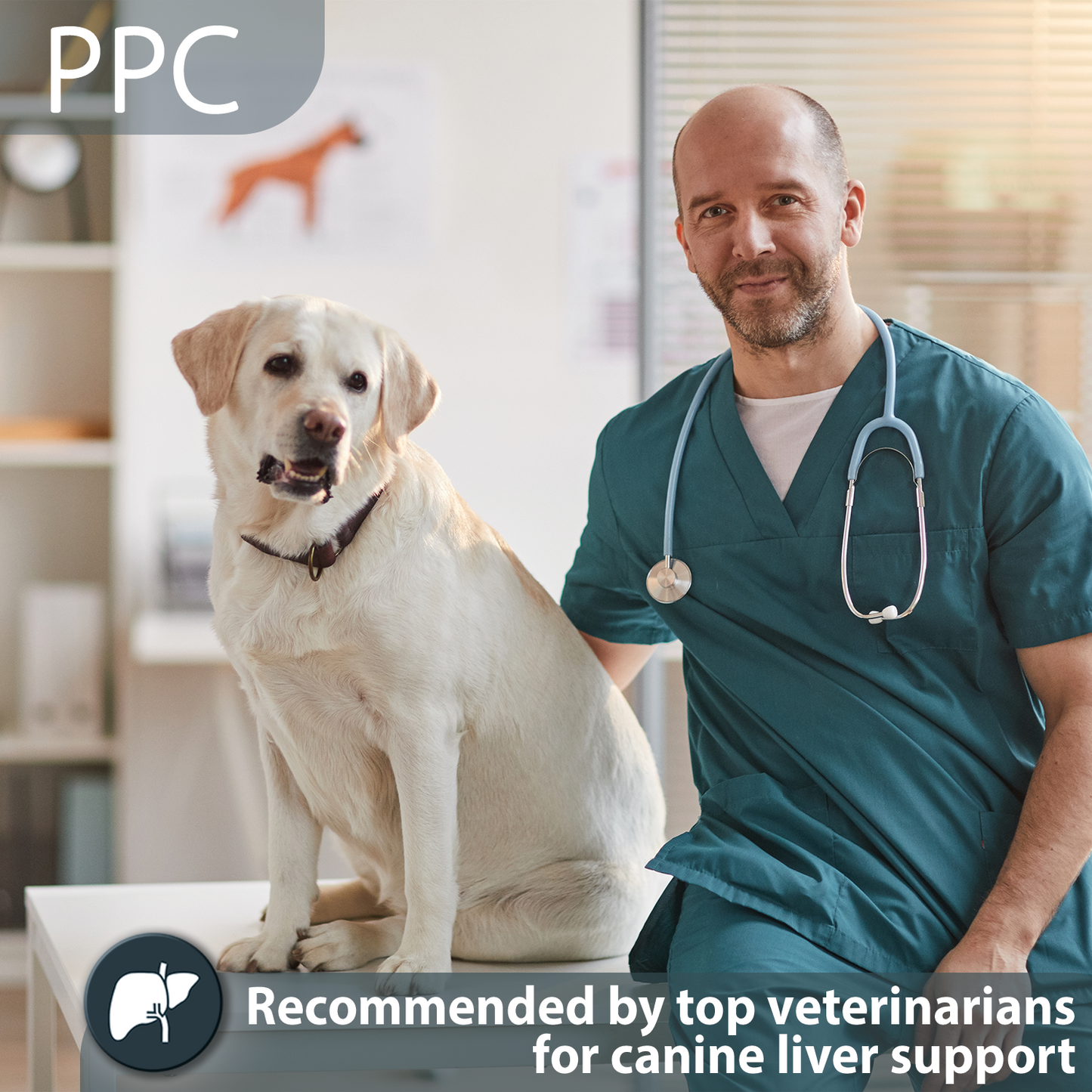 Just received it
Can't write a review yet as I just received it a few days ago. But excited to see if it helps with my dogs elevated enzymes. Heard great things about it and she likes the taste. Fingers crossed. Will let you know.
Lower Enzymes PPC Vet
Have been giving my pup supplements for years in an attempt to lower enzymes. Within a few weeks of using PPC vet, his enzymes came back lowered. Great Product he its right up.
PPC-VET
I've been giving PPC-VET to my dog for about a month. We go back next month to recheck bloodwork. He loves the taste and takes it straight from the spoon. Hopefully, his recheck will be as good as the taste.
Vet recommendation
This product was recommended for my senior golden with liver disease of unknown origin, but evidenced by high liver enzymes. Since starting this product, her liver enzymes have greatly improved and her vet believes she will live much longer than originally thought. I don't know if this product is the cause of the improvement, but I will keep my dog on it for the rest of her life.
Recommended by our vet
Our vet recommended this as one of several supplements for our dog to take due to his liver enzymes being elevated for an extended period with no clear cause (asymptomatic). He takes one per day.