nutrasal
سعر عادي
سعر البيع
$190.50
سعر الوحدة
per
Sale
نفذ
منذ عام 1982 ، كانت شركة PhosChol رائدة في مجال العلامات التجارية الاحترافية للدرجة الصيدلانية PPC (polyenyl-phosphatidylcholine). في الواقع ، تم إعطاء أكثر من 200 مليون جرعة من قبل الأطباء في الولايات المتحدة وحدها. PhosChol هو المعيار الذهبي. مكون نشط نقي بنسبة 100 بالمائة يوفر أعلى مصدر مركّز لـ 1،2 DLPC ، وهو جزيء خاص جدًا مسؤول عن فعالية ونتائج PhosChol الفائقة.


PhosChol هي العلامة التجارية رقم 1 لمهنيي الرعاية الصحية من الدرجة الصيدلانية PPC



تحدث الحياة على الغشاء وتوفر PPC المنقى (PhosChol) اللبنات الأساسية الأساسية للغشاء الخلوي والإصلاح والتجديد والوظيفة.
مثل طوب الجدار ، تعمل الأغشية الخلوية كحواجز لحماية كل خلية وعضية في جسم الإنسان ، وتحافظ على التركيب الخلوي والوظيفة والتعاون.
الأغشية هي لبنة أساسية للحياة حيث لا يمكن تكوين الخلايا والأنسجة والأعضاء ، وفي النهاية الكائن الحي لا يمكن أن يتشكل بدونها. بدون أجهزة الكمبيوتر والأغشية الخلوية ، لن تكون الحياة كما نعرفها ممكنة.
من الواضح أن الفوسفاتيديل كولين يلعب دورًا حيويًا في حياة الإنسان. دورها أكثر أهمية عند اتخاذ خيارات نمط حياة غير صحية. يمكن أن يؤدي الاستهلاك المفرط للكربوهيدرات المصنعة والسكر و HFCS والكحول والمخدرات ، من بين أمور أخرى ، إلى تلف الأغشية. عندما تصبح أغشية الخلايا صلبة ومتضررة ، تقل الوظيفة ، ويحل المرض محل الصحة والرفاهية. عند وجود أضرار في الأغشية ، يكون الطلب على جهاز الكمبيوتر مرتفعًا للمساعدة في تكوين أغشية الخلايا وتكاثرها واستعادتها وتجديدها وتعزيز التمثيل الغذائي المعتمد على الأغشية.
مع جميع المنتجات المتاحة لك و / أو لمرضاك ، لماذا تفكر في PhosChol؟
الجواب بسيط:
طريقة عمل PhosChol الفريدة والنتائج المثبتة
أكثر من 35 عامًا من الاستخدام في الولايات المتحدة
موثوق به من قبل الأطباء - أكثر من 100 مليون جرعة يديرها الأطباء في الولايات المتحدة وحدها
توثيق سريري واسع وعميق
المعيار الذهبي - 100٪ بولي فينيل فوسفاتيديل كولين المنقى والصيدلاني (PPC)
أعلى مصدر مركّز لنجم غشاء الخلية - 1،2 ديلينولويل فوسفاتيديل كولين

 

(DLPC - حتى 52٪)
سجل أمان غير مسبوق
100٪ ضمان الرضا
PhosChol هي الطريقة الشاملة والفسيولوجية للصحة والعافية المثلى


في العديد من الدراسات السريرية ، ثبت أن مادة البولي فينيل فوسفاتيديل كولين المنقى (PPC) تدعم: *
صحة القلب والأوعية الدموية
صحة الكبد ووظيفته
وظائف المخ والذاكرة
إعادة هيكلة غشاء الخلية والسيولة والمرونة
استقلاب غشاء الخلية
حماية الغشاء المخاطي في المعدة
جهاز المناعة
استعادة التحمل الرياضي
موصى به من قبل الأطباء والعلامة التجارية المهنية الرائدة
الفوسكول الموصى به من قبل الطبيب هو مادة البولي فينيل فوسفاتيديل كولين نقية بنسبة 100٪ ، مع ما يصل إلى 52٪ من مادة البولي فينيل فوسفاتيديل كولين. في الواقع ، يوفر PhosChol أعلى مصدر مركز متاح للديلينوليويل فوسفاتيديل كولين (DLPC). لا يمكن مقارنة أي منتج آخر.
نحن نشجعك على أخذ الوقت الكافي للتعرف على PhosChol واكتشاف سبب كون PhosChol هو ما يحتاجه جسمك.
نوصي بالتحدث مع طبيبك حول الفوائد الصحية العديدة لـ PhosChol ولتحديد ما إذا كان PhosChol مناسبًا لك. إذا كنت تبحث عن بديل آمن ومثبت من PhosChol فقد يكون ما تبحث عنه.
قد لا يعرف طبيبك عن PhosChol وكيف يمكنه مساعدتك. عند التحدث مع طبيبك حول PhosChol ، نوصي بتزويدهم بنسخة من كتيب PhosChol. يرجى طلب إرسال كتيب PhosChol إليك أو إلى طبيبك مباشرة.
معظم الأطباء الذين يتعلمون عن PhosChol ، عادة ما يوصون به لمرضاهم!
أكثر من 200 مليون جرعة يومية تم بيعها لأطباء في الولايات المتحدة وحدها ، مع عدم وجود آثار جانبية معروفة ، أو موانع ، أو تفاعلات. PhosChol موثوق به حتى مع الاستخدام طويل الأمد.
معيار الذهب
يعد PhosChol أول مصدر نقي بنسبة 100٪ لمادة البولي فينيل فوسفاتيديل كولين (PPC).
يوفر PhosChol 900mg من PPC المنقى لكل كبسولة هلامية ، و 3 جرام من PPC المنقى لكل ملعقة صغيرة مقاسة من السائل المركز.
يوفر PhosChol أكثر من سبعة أضعاف محتوى PPC لأي علامة تجارية أخرى في المتجر.
يحتوي PhosChol على ما يصل إلى 52٪ DLPC.
قد يعزز PhosChol العمليات الفسيولوجية المتعلقة بغشاء الخلية.
الفوسكول متاح حيوياً (امتصاص بنسبة تزيد عن 90٪) ، ولا يحتوي على فوسفاتيدات أخرى تتنافس على الامتصاص.
PhosChol آمن وثبت فعاليته سريريًا.
PhosChol موثوق به ويوصي به الأطباء.

يعد PhosChol مصدرًا نقيًا بنسبة 100 في المائة من مادة البولي فينيل فوسفاتيديل كولين (PPC) وعلاج عن طريق الفم لاستخدامه كعلاج غشاء. بمكونه الخاص 1،2-ديلينوليويل فوسفاتيديل كولين (حتى 52٪) ، تعتبر PPC ذات أهمية من الناحية النظرية في الصحة حيث توجد هياكل أغشية الخلايا التالفة ، وانخفاض مستويات الفوسفوليبيد و / أو انخفاض سيولة الغشاء. تدعم هذه الفرضية مئات التحقيقات التجريبية والسريرية على مدار 70 عامًا.
تُظهر التحقيقات الدوائية ، ومجموعة واسعة من التجارب السريرية ، وغيرها من البيانات المتاحة عن قدرة شرائية (PPC) وأنماط عملها المختلفة ، أن PPC تعمل بشكل أساسي من خلال تأثيرها على الأغشية. نظرًا لأن غشاء الخلية يحدث تغييرات وأضرارًا في نهج PPC في الإنسان فهو نهج فسيولوجي وشامل.
Share
عرض التفاصيل الكاملة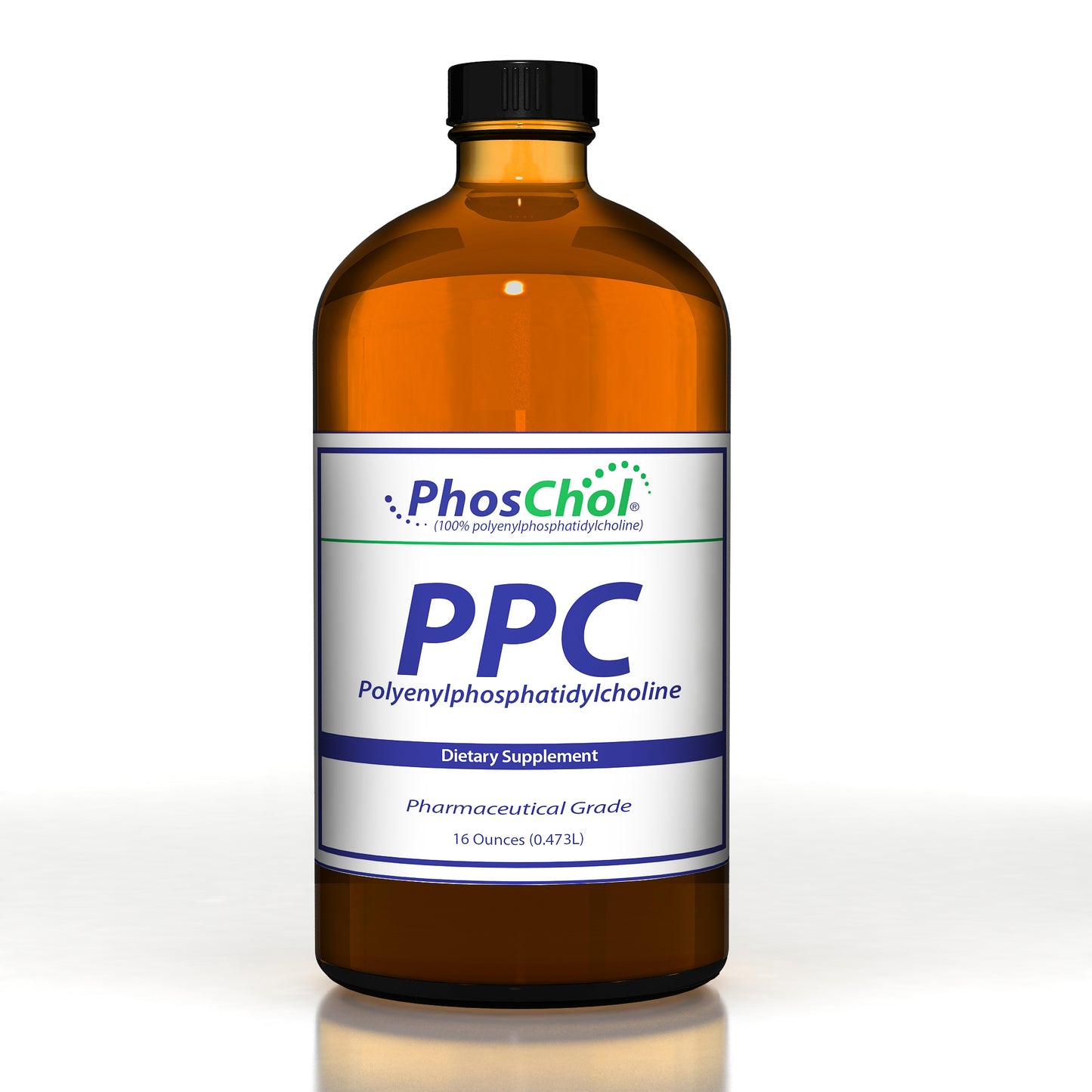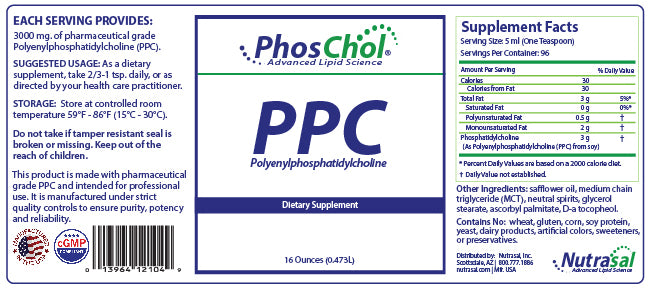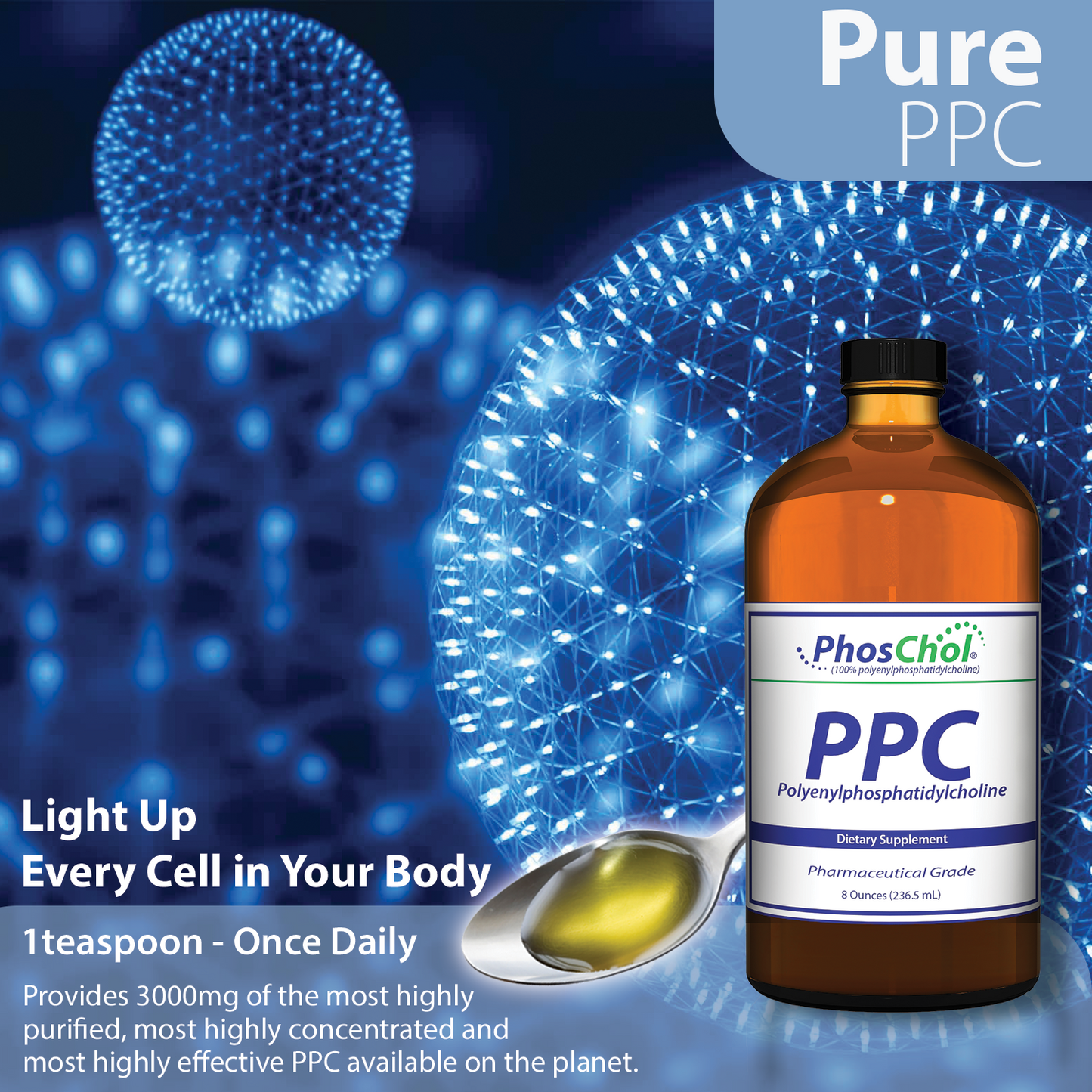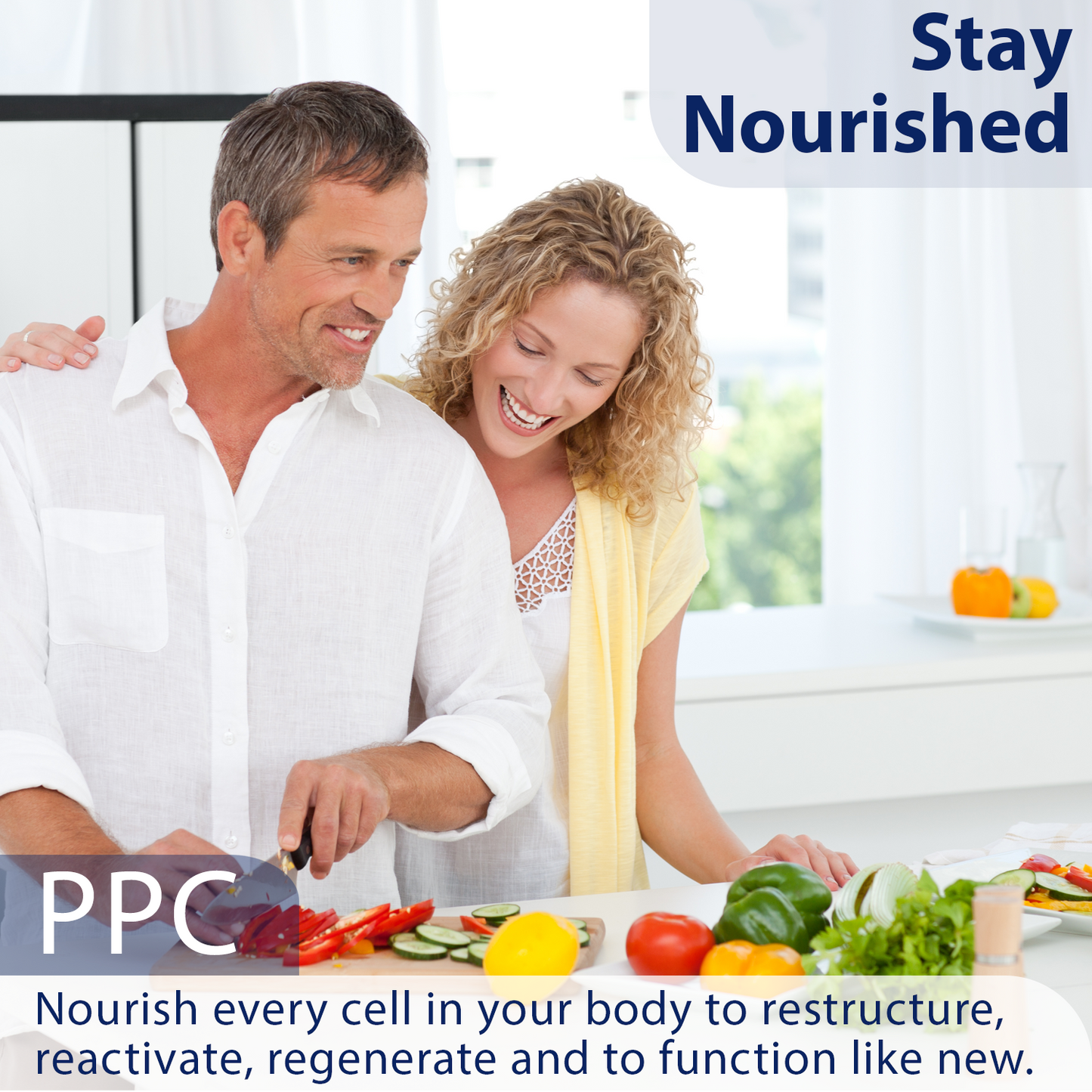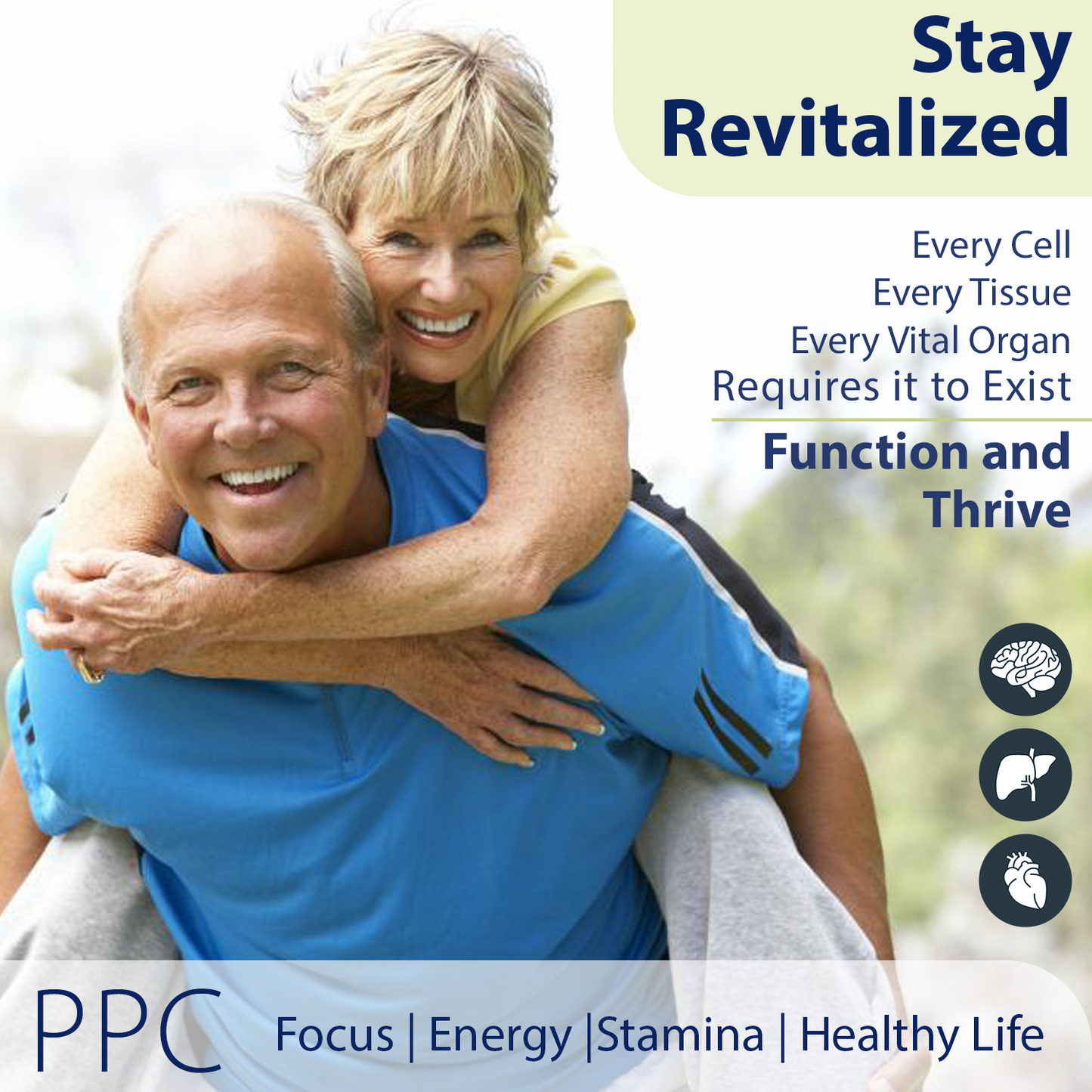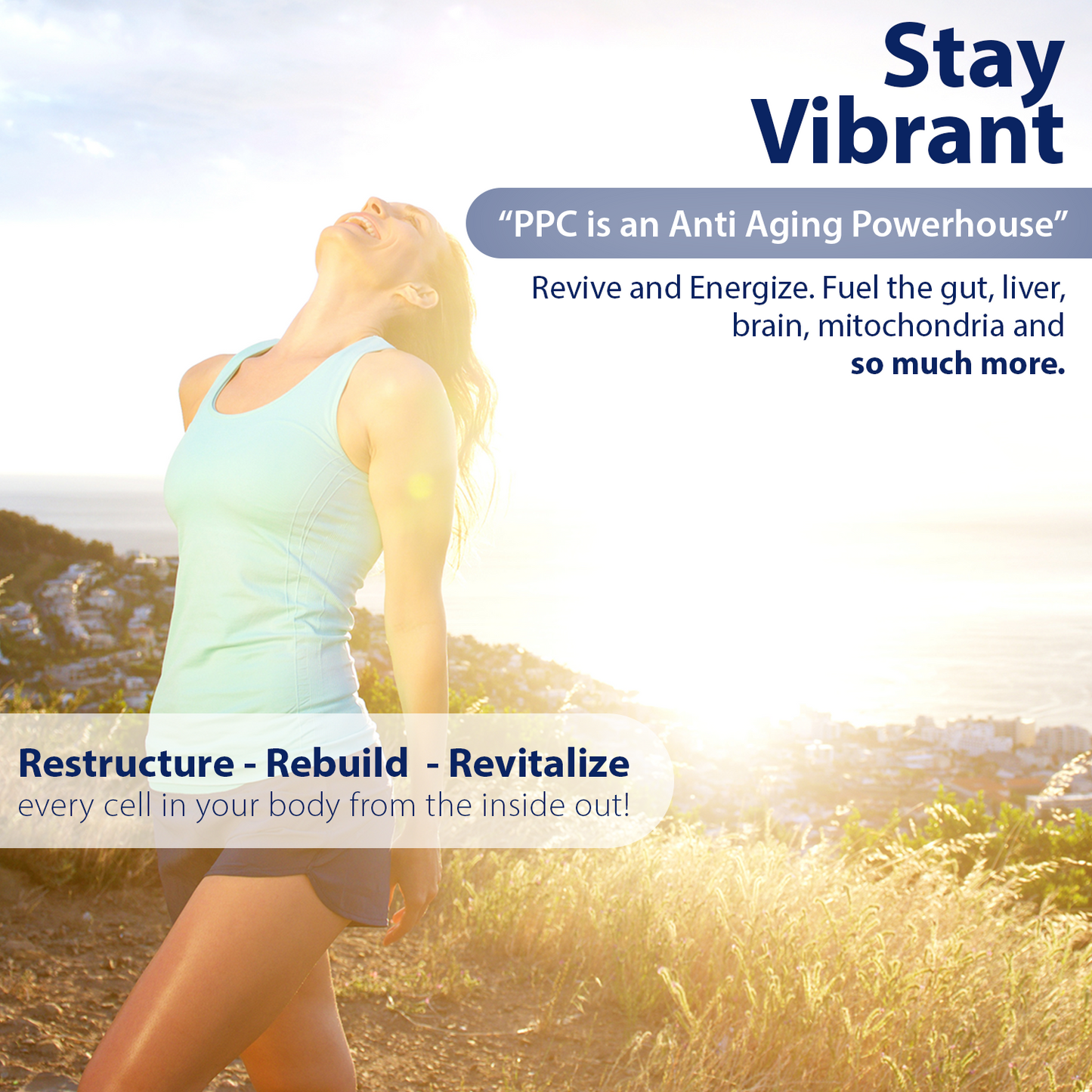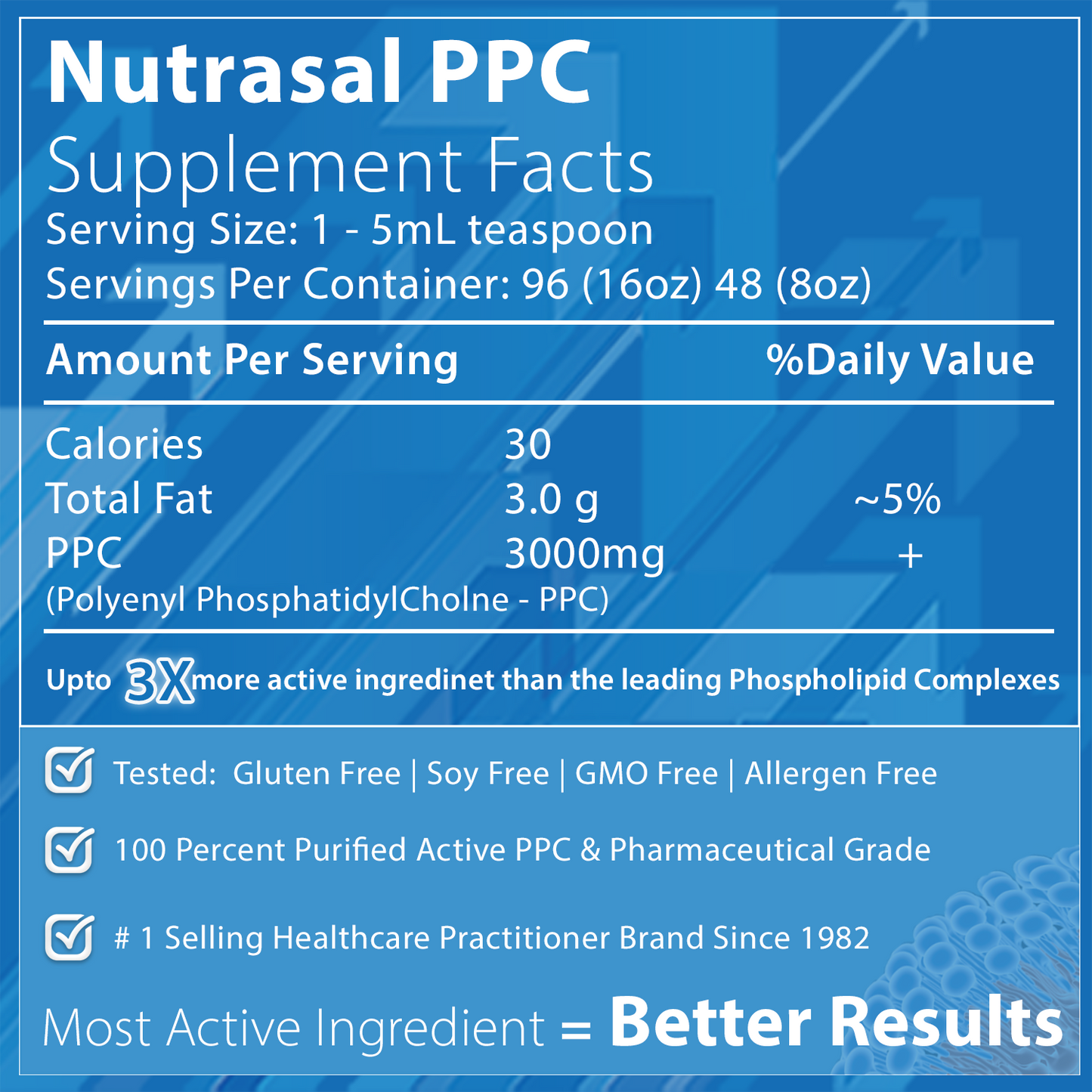 PhosChol FAQ's and Highlights
Highlights

Contains purified pharmaceutical grade PPC and the highest concentrated source of 1.2 DLPC which accoutns for it's superiour efficacy. PPC is a significant holistic and anti-aging molecule that supports healthy gut, liver, brain function, among others. PPC supports cell membrane integrity and cell metabolism. It is a cell mebrane therapeutic and essential building block for life and good health*
Dosing Recommendations

The registered therapeutic dose for pharmacetuical grade PPC is 1800mg. This dose was established in 1953 when purifeid PC was first registered as drug for the liver. There are over 400 Human Clinical Studies and Over 1000 pharmacologifcal investigations confirming the effectivness and safety of this dose.

Can you take more?

Yes. Studies suggest that higher doses of 4 to 5 grams may result in additional improvement in outcomes. However, higher than 5 grams typically results in no further increaees in efficacy and "the law of diminishing return" Kicks in.

We tyipically recommend the straight 1800mg of PPC and our capsule size and weights are designed to accomodate this dose.

PhosChol Capsules

PhosChol 900mg Gelatin Capsule: 2-3 Capsules or 1800mg to 2700mg per day.

PhosChol 600mg Vegetarian Capsule: 3-4 Capsules or 1800mg to 2400mg per day.

PhosChol Liquid Concentrate: 1-5mL teaspoon contains 3000mg. For adults we recommend 2.5mL (1/2 tsp)-5mL (1 tsp.) per day. For children under 85Lbs. we recommend 1/2 of the adult dose.

PhosChol Kids: 1-5mL teaspoon contains 1000mg. For children under 85Lbs. we recommend 1000mg or (1tsp.) per day. For adults and children over 85Lbs. we recommend doubling the children's dose to 2000mg or 10mL (2 tsp.) per day.
Common Uses

In numerous clinical studies, purified polyenylphosphatidylcholine (PPC) has been shown to support:*

- lipid metabolism and cardiovascular health

- liver health and function

- brain function and memory

- cell membrane restructure, repair, fluidity, permeability, integrity

- cell membrane metabolism

- gastric mucosal protection

- immune system suppport and response

- sports endurance recovery
Ingredients

PhosChol PPC contains one major component: highly purified lecithin (purified polyenylphosphatidylcholine
(PPC)).

Minor components of PhosChol Include: safflower oil, mono-diglycerides, fatty acids, medium chain
triglycerides, and food grade alcohol, Gelatin or Vegetabel Cellulose (capsule)

All major and minor compoents are confirmed to be "generally recognized as safe" (GRAS) by the US Food and Drug
Administration.
FAQ's

What is PhosChol?

PhosChol is the first and only, all natural, soy-derived 100 percent pure source of polyenylphosphatidylcholine (PPC).

PhosChol is an oral therapy for use as a membrane therapeutic. With its special ingredient 1,2-dilinoleoylphosphatidylcholine (up to 52%) it is theoretically of importance in all areas in which damaged membrane structures, reduced phospholipid levels and/or decreased membrane fluidity are present. This is a hypothesis, which is supported by experimental and clinical investigations on various membrane-associated disorders and illnesses.

What is a Phospholipid?

PhosChol is comprised of pure polyenylphosphatidylcholine, a phospholipid commonly found in soybean lecithin. Chemically speaking, phospholipids are the active component in lecithin. Compared to a typical fat or triglyceride ("Tri" meaning three fatty acids attached) phospholipids normally contain two fatty acids and in place of the third fatty acid they have a phosphorous containing head group. A phospholipid is unique because its fatty acid tails like oil and its head group likes water. When a phospholipid comes in contact with water, it spontaneously forms what is commonly referred to as a bilayer structure. The bilayer functions as the "skin" or "membrane" of living cells and organelles.

Another crucial component of a phospholipid is the type of fatty acids attached to it. A phospholipid such as soy-derived polyenylphosphatidylcholine is rich in linoleic and linolenic acid, and polyunsaturated fatty acids that provide "fluidity" to the cell membrane. Maintaining membrane fluidity is crucial, as the membrane is central to the majority of cellular activities.

What is PhosChol most used for?

Pharmacological investigations, a broad range of clinical trials, and other available data on PPC and its different modes of action, demonstrate that PPC acts primarily through its influence on membranes. As cell membrane changes and damages occur in many disorders, PPC's therapeutic approach in man is a physiological and holistic one.

Purified PPC aids the body in many ways. It is important to remember that PPC is an essential nutrient comprising approximately (65%) of every cell membrane in your body.

PhosChol is often recommended to: (among other uses)

Help manage and sustain healthy lipid levelsProvide neuronutrient supportHelp to maintain and improve membrane fluidity.

Support hepatocyte protection, function and regeneration

Aid in Gastric Mucosa Protection - "Leaky Gut Syndrome" brought on by the use of NSAIDs, Non Steroidal Anti Inflammatory Drugs like Ibuprofen and Naproxen

Boost immune system strength

Purified PPC is commonly used for:Acute and chronic hepatitis; cirrhosis; intoxications; fatty degeneration of the liver of any origin; cholestasis; prophylaxis of gallstone formation; radiation syndrome; pre-and postoperative care, especially in liver/gallbladder surgery; dyslipoproteinemia (hypercholesterolemia, hypertriglyceridemia and hypoalphalipoproteinemia); atherosclerosis; coronary, cerebral, and peripheral circulatory disturbances; angina pectoris; condition following myocardial infarction, and apoplexy; hypertension due to sclerosis; vascular diseases, especially in diabetes mellitus; nephritic syndrome; pre-operative treatment for the prevention of thrombo-embolism.

Is PhosChol safe and are there any potential side effects?

From the toxicological investigations, from safety pharmacology, and from the general pharmacodynamic effects of PPC (the active substance in PhosChol) it is evident that this extract is safe and non-toxic.

In over fifty years of use, and in thousands of animal and clinical studies, PPC has been proven safe and reliable.

Over 200 million daily doses have been sold to doctors in the United States alone, with no known side effects, contraindications, or interactions. PhosChol is trusted even with long-term use.

No manifestations of intoxication or overdosing have been reported. There are neither contraindications nor precautions to be observed in the administration of the preparation.

What if I am taking other medications?

PhosChol is generally well tolerated and can be taken with other medications. If you are prescribed a medication while taking PhosChol or wish to take PhosChol while on another medication, it is always best, and we strongly recommend that you notify your physician.

You can request a brochure to show to your Physician or you can have your physician or primary care giver contact us for any of their informational needs. We will be happy to assist them.

Doctors who learn about PhosChol usually recommend it.

How much PPC is one dose of PhosChol?

PhosChol has a PPC content of 900mg (~1 gram) per softgel capsule, and 3000mg (~3 grams) per teaspoon in the liquid concentrate.Recommended Dosage and AdministrationThe recommended daily dose is 2-3 capsule - once daily, or 2/3 to a 1 full tsp. of liquid concentrate - once daily. To be swallowed whole during meals with a little liquid if required. (PhosChol may be taken on an empty stomach, no irritability has been reported)

Is PhosChol safe during Pregnancy?

PhosChol is often recommended during pregnancy and post pregnancy. As a nutritional supplement PhosChol is an aid to good health and guards against low blood choline levels. PhosChol provides a preferred source of highly bio-available choline.

Because choline is so important in membrane development and repair, it is transported across the placenta from the mother to the fetus by a 1:14 ratio. Similarly, the choline concentration in mother's milk is over 100 times the level in the maternal bloodstream. Thus, the requirement for choline appears to be especially high in women during pregnancy and lactation. Because of the heightened requirement for choline, it is likely that both pregnant and lactating mothers, who are not taking choline supplements, have lower serum choline concentrations than non-pregnant women.

Given the role of choline in memory and cognitive function and the diversion of choline from the mother to the fetus, it is speculated that the periodic lapses in memory and mental acuity often experienced by pregnant and lactating mothers may be related to lowered choline levels.

Are There any Similar Products like PhosChol Available in the Market?

There are no similar products available in North America. PhosChol is the only 100% pure source of PPC available in North America. And, only PhosChol delivers up to 52% dilinoleoylphosphatidylcholine (DLPC). No other product can compare.

A product similar to PhosChol has been used in Europe as a pharmaceutical (approved by the Bfarm) for over 50 years. During this time, millions of Europeans and Asians have enjoyed the healthy membrane therapeutic benefits of purified PPC. Discover why so many people have added all natural, 100% pure PhosChol to their daily supplement program.

I've heard choline in small and in large doses can cause fishy body order - can this happen with PhosChol?PhosChol is an all natural, soy-derived 100% pure source of polyenylphosphatidylcholine (PPC). PhosChol provides the body with a preferred source of bio-available choline and will not cause fish body odor, even at extremely high doses.

Other products are either phospholipid complexes or choline salts. The complexes contain only about a third of the PPC in PhosChol. And, the other phospholipids they contain compete with PPC for absorption.

Choline salts are processed differently by the body than PPC reducing the actual amount of pure choline available and often resulting in objectionable fishy body odor.

PhosChol is a natural alternative to synthetic choline salts and can fulfill the dietary reference or adequate intake (AI) for Choline. And, no energy consuming Polyenylphosphatidylcholine synthesis from choline is necessary.

Is PhosChol A Drug?

PhosChol is not a drug. PhosChol is anaturally derived dietary supplement. The United States Food and Drug Administration does not permit Nutrasal to make any claims regarding the use of PhosChol. In fact, by regulation, we must state in relation to any structure function claims we make:"These statements have not been evaluated by the FDA. This product is not intended to diagnose, treat, cure, or prevent any disease."Is PhosCholGMOFree?The short answer is yes.

View our complete GMO statement

Can't find the answers to your questions? Please Contact Us directly and one of our technical advisors will be happy to assist you in getting the information you need.

Headed by Dr. Karl J. Gundermann, Nutrasal has an elite group of technical and medical professionals available to answer your product related questions. We have over 35 years of experience with PPC and are able to provide you with the best possible information should you require it. Just Ask Our Experts, and w will get the information you need.
GMO's and Allergens

Nutrasal Products are GMO free and do not contain any wheat, gluten, dairy, corn, nuts, shellfish, soy protein, or other potentially allergy causing ingredients.

All components of our products are highly purified, 3rd party tested and are FDA "GRAS" status or generally recognized as safe.

Although we can not gurantee that one may have an allergic reaction to our product(s), our products have been analyzed and the potentially allergy responsive proteins are well below 0.5 ppm, which is the detection limit of
the ELISA method for the quantification of proteins. 
Residual proteins in PhosChol are actually "not-detected".